[Reseña/Review] Jane The Virgin
10:21
Hola a todos, si están leyendo esto significa que están vivos y están acá porque vamos a conocer un poco más acerca de una serie de televisión. Así que sin más, empecemos.
One day you're on a bus and suddenly you just fainted. So, you're taken to a hospital and the doctor tells you that "it's normal in your state because you're pregnant". Next scenario: You're in shock because you weren't worried about having a baby or any of this specially because... Well you're a virgin (Yep!). (Yeah! it's like a telenovela)
¿Que harías si un día fueses al ginecólogo (o si tu novia fuese allí) a hacerte una revisión, pero por problemas personales tu ginecólogo confunde tu revisión con una inseminación artificial? ¿Qué pasaría si dos semanas después, esa inseminación artificial te deja embarazada?
Leer en Español
Read in English
Tu confusión no solo llega porque un día vas en un bus con tu madre, te desmayas, llegas a un hospital y el médico te dice que todo se dio porque estás embaraza. Sabiendo que tú no habías planeado tener ningún bebé ni te preocupabas por esa posibilidad porque eres virgen. Es como si todo esto fuera sacado de una telenovela.
Pues esta es una premisa de lo que es 'Jane The virgin', una serie que sigue la vida de Jane Gloriana Villanueva, una joven que está estudiando para convertirse en una profesora y que además sueña con ser una escritora. Ella ha sido criada y ha vivido con su madre Xiomara, una mujer quien quedó embarazada cuando tenía 16 y nunca develo la identidad del padre de Jane; su abuela Alba quien es una persona religiosa y le decía que la virginidad era como una flor y que una vez se perdía se marchitaba y no volvería a ser la misma, así que debía esperar a tener sexo hasta que se casará (para así no cometer los mismos errores de su madre).
Hasta el momento en sus 23 años, Jane ha cumplido su promesa sin importar la larga relación que lleva con el oficial Michael Cordero, un hombre que la quiere y ha estado a su lado por dos años y da pistas de querer comprometerse con ella.
Hasta ahí la vida de Jane es estable y normal. Sin embargo, todo cambia el día en el que va a hacerse una revisión donde su ginecóloga Luisa, el mismo día en el que Petra la cuñada de Luisa va a hacerse una inseminación artificial con la única muestra de esperma de su esposo (hermano de Luisa) Rafael quien es un sobreviviente de cáncer, un heredero, millonario y dueño de un gran hotel llamado Marbella. Pero a pesar de todo, él no está enamorado de Petra y quiere el divorcio con ella.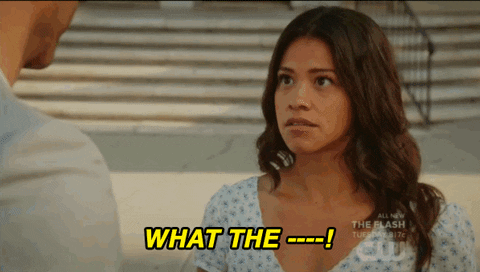 ¿Pero cómo sucede todo ese cambio? Pues Luisa está lidiando con unos problemas personales porque la noche anterior descubrió que su esposa la estaba engañando. Entonces ese día su mundo está colapsado y lo que supone para Jane ser una revisión de rutina, para Luisa es la inseminación artificial que esperaba la paciente del cuarto 7 (Sí, Petra). Dos semanas después, Jane va en un bus y de repente se desmaya. Lo que hace que su madre la lleva a un hospital, y es así como se entera que
está embarazada
. generando una confusión gigante en ella y su familia y todos porque... Bueno:
nunca ha tenido sexo.
Es así como Jane y su madre van donde Luisa a comentarle acerca de la situación y lo que está sucediendo con respecto a la prueba de embarazo. Luisa les confiesa en ese momento que realmente no es un error lo que se ha presentado, porque fue ella la que inseminó artificialmente a Jane dos semanas atrás. Estas noticias hacen que el mundo de Jane sufra un vuelco de 180° porque esto no estaba dentro de sus planes.
Esto hace que su madre y su abuela se dividan en la decisión y en lo que puede ser mejor o no para Jane, pero siempre la estarán apoyando. También, su relación con Michael comienza a tambalear porque el oficial Cordero no está muy contento de tener hipotéticamente el hijo de otro. Además, esta situación trae también consecuencias para Luisa porque no solo pone en peligro su práctica como médica, sino que también esto complica la relación con su hermano Rafael. Y ni que decir de los altibajos que afrontarán tanto Rafael como Petra en el matrimonio que ya se estaba hundiendo.
Con todo esto, Jane tendrá el inicio de una nueva etapa en su vida de la cual podemos ser parte y vivir con ella en cada capítulo porque además de decidir si debe o no tener el bebé, deberá lidiar con todas las consecuencias a las decisiones que pueda tomar porque tanto Rafael como Petra están conscientes de que aunque haya sucedido una situación así, ellos quieren seguir con el plan de ser padres y por eso y en especial Rafael, le pide a Jane que considere la idea de tener al bebé.
Además de todo esto, en cada capítulo podremos conocer un poco más de la vida de Jane, su familia y la relación que ella ha ido construyendo con su mamá, su abuela, Michael e incluso Rafael - Sí, ellos dos tienen historia en el pasado e involucra el primer beso de Jane. También iremos conociendo las historias de todos estos personajes y sabremos de alguna manera cómo ese talentoso y famoso actor: Rogelio de La Vega se vincula a la historia. (Créanme que ese personaje vale la pena conocerlo)
Y para añadir un poco más de misterio a este serie, hay un criminal suelto *Coff coff Sin rostro coff coff* que se cruzará en la vida de nuestros personajes. (Parece sacado de una telenovela)
Actualmente, "Jane The virgin" va en su tercera temporada y es una serie que aunque en un principio pareciera predecible y simple, es todo lo contrario porque es una serie graciosa y llena de muchas historias frescas, diferentes, acertadas y bien desarrolladas.
Así que si no la has empezado a ver, deberías iniciar una maratón ya mismo. Si eres de esas personas que ya hace parte de la comunidad Jane, comparte con nosotras tus comentarios sobre la serie :)